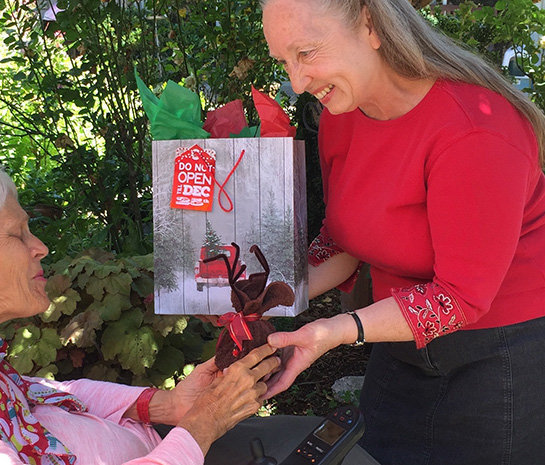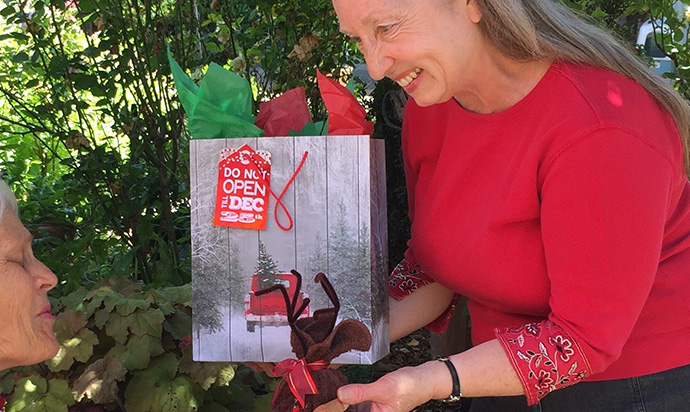 Volunteerism:
Paying It Forward Can Lead to Opportunity
RoseAnn Dalmas began volunteering for the faith-based youth organization Pathfinders when her son was just 10 years old. Dalmas, of Fairfield, CA, continues in the volunteer role of director for that organization some 25 years later. Today, though, she has a new job serving older adults, partly as a result of this volunteer role.
For years, volunteering has filled an important need for Dalmas. Her Pathfinders work has helped the mother of three grown children and one grandchild serve her community.
"I just feel energized when I can help someone have a better day or bring a smile to someone's face for whatever reason," she explained, in describing the benefits of volunteerism. "It gives me an inside energy. People tell me they don't know how I do it and that it must be keeping me young. I feel like I'm in good health and I'm rarely sick. I'm not a sit-around kind of person. I like keeping busy with one activity or another," she noted, like the hand-stamped greeting cards she makes as a hobby and distributes free at her church.
As a stay-at-home mom, Dalmas was looking for a way to open up opportunities to youth in 1992 when she became involved in Pathfinders, an international organization for youth ages 10 to 18. "I like to give young people lots of experiences. Our children have a completely different world to look at. They face many challenges. We have a neat group of about 20 youth and it's just special. They call and text me, and I have personal relationships with them. They share amazing things with me."
For the past 12 years, one of the Pathfinder projects has been the Home Instead® network's Be a Santa to a Senior® program, a holiday campaign that provides gifts to older adults who might not receive anything during the holidays. Dalmas spotted information about the program and thought it would be a great fit for her youth group.
"Along with the gifts the seniors request, the youth make something personal and take a card. The young people enjoy brightening the day of a senior who has no family and spending time with them. It's a win-win. I tell the students, 'We have so much joy, so we need to pass it on and it will continue. You may be the only person who has brought sunshine into their life today.'"
When Dalmas was looking for a job after 30 years out of the workforce, she thought about the possibilities of a CAREGiver℠ position with Home Instead, the Be a Santa to a Senior program sponsor.
"I thought it was something I could do. My grandmother raised me – I called her 'Mom.' She had lost her leg at 21 so I never knew her not to be disabled. At some point, she would need extra things so I grew up as a caregiver. She was able to do less and less until she could no longer be cared for at home." Dalmas, who also has experience helping her father-in-law and other older family members, never dreamed there was a company where she could work as a caregiver until she learned about Home Instead.
As a Home Instead CAREGiver, Dalmas said she likes "making a difference in someone's day and making it the best day possible."
Results of research conducted by Home Instead, Inc., franchisor of the Home Instead network, reflect Dalmas' attitudes about her job as a Home Instead CAREGiver as well as her continued volunteer role with Pathfinders:
Different paths to fulfillment
When it comes to returning to work, nearly a quarter of survey respondents (24 percent) said they chose volunteerism as a way of returning to working, while 11 percent entered retail and 8 percent entered the health field, acting as a caregiver, a part-time nurse, etc.
A desire to make a difference
One of the only common themes running through the choice of a new career was the importance of making a positive difference in the lives of others, where 78 percent of respondents said that it was either somewhat or very important to them to make a positive impact on the lives of others in unretirement.
Make it meaningful
Twenty-two percent of respondents said they chose to return to work after retirement because they had the opportunity to do work they considered meaningful, like caregiving, teaching or generally giving back.
What's more, Dalmas' experience as a volunteer not only led her to a new career as a CAREGiver, but continues to generate feelings of fulfillment. Her sentiments are common among older workers and volunteers, experts say.
"It feels good to do good," said Marci Alboher, Vice President of Strategic Communications for Encore. "According to a VolunteerMatch survey of older adults, 75 percent of those who volunteered in the last 12 months said volunteering made them feel physically healthier.
"Encore is building a Gen2Gen campaign and we believe everyone who cares about the next generation should find ways to get involved," noted Alboher. "The best opportunities are when an organization knows how to use volunteers well. As we age, we tend to excel in relational roles – empathy, listening, judgment, mentoring, management – so identify roles that tap into those skills."
Additional Resources